Today, I found some Bumblebee hybrids that may have been planned in the code, but they haven't been completed yet. Will they be added in the future?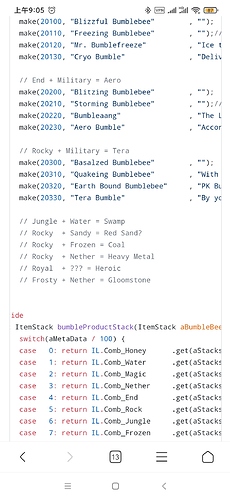 some suggestions:
Jungle + water = swamp: it can be used to produce peat and mud balls,Maybe peat can be regenerated without other mod added peat farms. but what are the liquid products? Dirty water? This bumblebee is too dirty…
Rocky + sandy = red sand: red sand can centrifuge a little iron and diamond, which may be used as a renewable source, but it's not efficient…
Rocky + frozen = coal (why is this combination?) : renewable coal looks like a good idea
Rocky + nether = heavy metal: a bumblebee that can produce metals sounds great, but what metals can it produce? Will it break the balance of the game?
Royal + (I think it should be soldier) = Heroic: just like forestry, it only attacks hostile creatures including skeletons, but not players and friendly creatures. It may be the first 3-tier Bumblebee (two 2-tier hybrids), but what should its product be?
frozen + nether = gloomstone:possible renewable source of glowstone.