Hello,
my brother and I have created a fission reactor simulator for GT6 in Python 3.7 with Qt. It is a project we started to get more familiar with the platform. It works fairly well, however, it is technically not finished in terms of UI. We did not perform rigorous testing of the simulation itself, but it has worked correctly thus far.
We have set up a repository on GitHub (GitHub - Klayto-235/GT6-Simulators: Simulator(s) for the Minecraft mod Gregtech 6.) and invite you to try it out. Also, we are keen on learning how to manage an open source project on GitHub, so you are encouraged to collaborate.
In terms of reactor designs, we've come up with a few basic uranium-based designs. Do try and improve on them and share your creations.
Happy melting!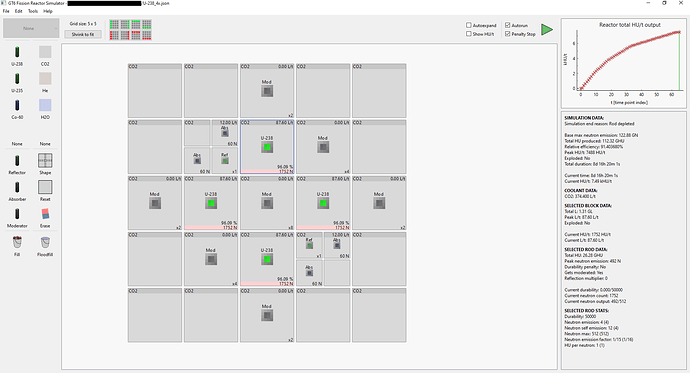 U-238_4x.json
(617 Bytes)
U-238_6x.json
(937 Bytes)
U-235_9x.json
(660 Bytes)
U-235_21x.json
(1.2 KB)