MV electrolyzer, attached through cable to LV transformer?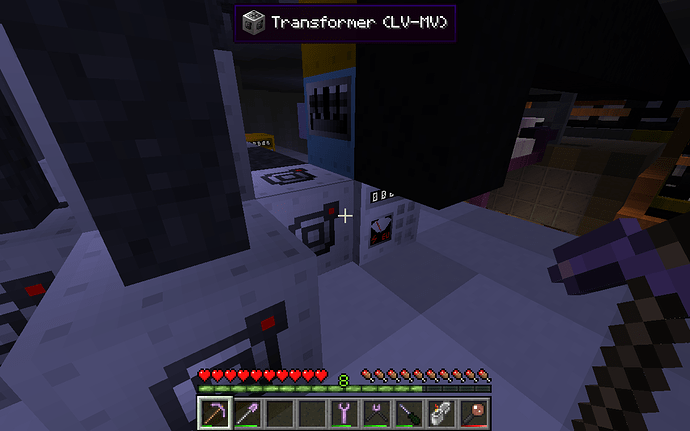 Got it going through this baby, and I made sure to bing bong it with a monkey wrench to make sure that I don't have the power conversion the wrong way. Not sure why it's not working
Bumping because my wording accidentally made it seem like it got fixed.
Are you sending large enough packets of Power to the Electrolyzer? Remember that the Size of the Packets reduces by at least 1 for each Cable used.
Walter White voice: Greg, what the fuck are you talking about?
Sparrow voice: It seems I am uninformed as to what you mean, do you know where I can learn more about how this works?
It turns out that I am not the only one having a hard time understanding the Voltage/Current system.

Well, what is the minimum Input Voltage for the Electrolyzer, and what is the Output Voltage of that Transformer?
Subtract 1 or 2 from that Transformer Voltage due to the Cable.
As for the Electrolyzer itself, does your Recipe say anything about ITS input Wattage in NEI? Maybe the Recipe eats just much more than you supply.
I got two LV battery boxes hooked up to a transformer converting it to MV, the total output being 121 EU. I've only tried recipes that are under that number, including some that are in the LV tier of things (64 and below).
Oh you run an MV Electrolyzer? That will quadruple all the LV Recipes in Voltage, that's your Issue. Overclocking Mechanics are not that transparent about this.
Okay, I'll stick to MV recipes then, but those aren't working as well.
Maybe put an MV Battery Box below the Electrolyzer and put 2 MV Batteries in it.
I'll try that and report back for future confused people who might stumble into this thread.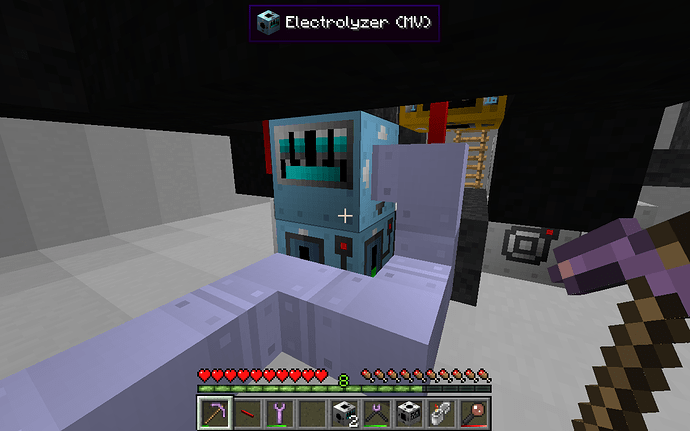 As predicted, your answer was correct. I just don't know why. Do you have a thread explaining EU stuff, or know where I can read about it? Or I could be regaled by the wisdom of the folks here, I'm not a picky person.
I dont think there is a Thread for that, its just a convoluted system with barely any explanations. I made a lot of mistakes with that as you can clearly see…
That's okay, Greg, you're just one person working hard to answer questions. I'll come to you if I get confused.
I once stumbled upon this very same problem, that I presumed that an MV Electrolyzer can do all recipes LV. Only after asking here did I start to understand the overclocking. I have to say that there are truly not enough explanations about these stuff, and it can easily get confusing when something that intuitively should work doesn't. Thankfully Greg always answers Questions quickly. But what I think is that, with a thread or something thoroughly explaining about these mechanisms, maybe @Gregorius you can save some time and effort answering questions as well?
Maybe we should make a master thread discussing it.
Yes. And make it easy to find by those also stumbling upon confusions about the Electricity system.