Hello all


Gregtech 6 talks about the 6.14.08 release in their update notes. Are these versions for Gregtech 6u?
Uh what? I am at 6.14.01, you mean GT6U when you say that? I dont know if i can help you lol.
Sorry for my bad english


Here it gives information about new versions. Is this for future versions gregtech 6?
If you are going to keep updating gregtech 6, I will not switch to gregtech 6 unofficial. I opened this thread to verify.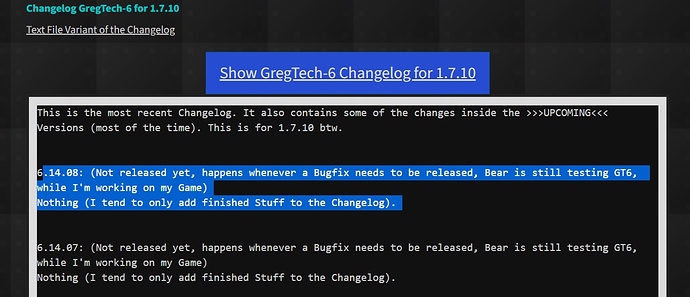 I try to do Bugfixes and Stuff, also GT6U does take my updates too, so you can get both just fine after a few weeks after my releases.

Thank you very much for answering. The more I learn Gregtech 6, the more enjoyable it gets.


Thanks for offering such a mod to Minecraft.