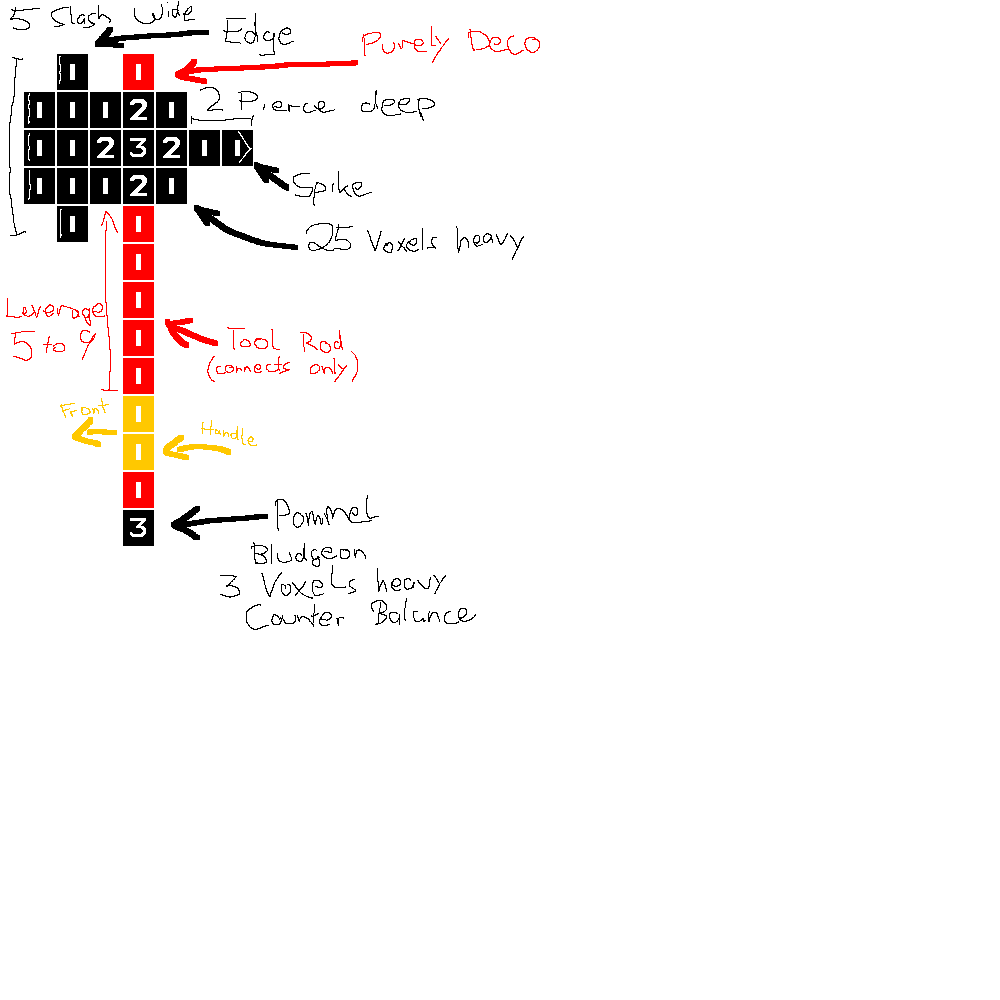 So I decided to randomly draw a mock up of a small Axe as an example of how different parts on a Tool can act. Note, this particular Axe would be very tiny, like half a Minecraft Axe kinda tiny.
I am not sure how I will handle the density of the Voxels, maybe it's just thickness as in how many you place on the same plane. But I will only allow 1-Dense Voxels to have Pierce or Slashing Damage, so you dont end up making a perfectly flat looking Hammer that slices you up. You need to have visible Spikes on that Hammer if you want that!
Also not sure if I am going to allow multiple edges on a single Voxel, just for being able to visually even it out. Same goes for combining Spikes and Edges, not sure on those ones either, especially if the piercing distance ends in an Edge.
Tool Rod Parts only really connect the Tool Materials with each other, so they don't usually play much of a role except for increasing Leverage for cheap.
The Tool Handle(s) decide(s) how big the Hand is, where you can hold it, if you can wield it with two Hands at a time, if your Tool has a more diagonal Style or a more straight Style, where the front of your Tool is located, and if you can just turn the Tool 180° to either use the Crowbar side of a typical Pickaxe, or turn the Tool around like spinning a Staff.
You for example CAN use a Sword to chop a Tree, but I don't think the weight balance and everything would make the Sword a good choice to do it fast. The Piercing point at the end of the Axe I mocked up would be able to mine Stone too, just not very efficiently compared to a more pickaxe-y shape.
How I will end up calculating the whole thing requires lots of testing, I don't want to encourage making the one Tool to rule them all, but combining two Tools together like for getting a Hammer-Axe should be trivial, especially since they are similar.