Good day!
I try to generate Cave Dimension with GT6 ores but only generated small ores. All parameters for large ore veins are active in that dimension. And I get no one veins in the 300*300 area.
Screenshot what I get in 150*150 area: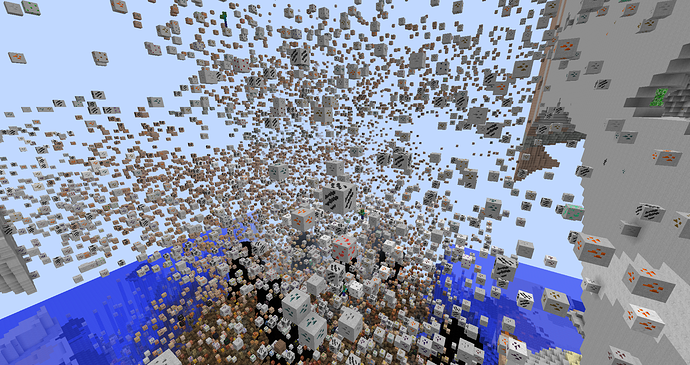 I try regeneration with disabled BiomeTweaker and CustomOreGen but this not help. What else can be a try?
All used mods:
	mcp{9.05} [Minecraft Coder Pack] (minecraft.jar) 
	FML{7.10.99.99} [Forge Mod Loader] (ultramine_core-1.7.10-server-latest.jar) 
	Forge{10.13.4.1614} [Minecraft Forge] (ultramine_core-1.7.10-server-latest.jar) 
	appliedenergistics2-core{rv3-beta-6} [Applied Energistics 2 Core] (minecraft.jar) 
	CodeChickenCore{1.0.7.47} [CodeChicken Core] (minecraft.jar) 
	Micdoodlecore{} [Micdoodle8 Core] (minecraft.jar) 
	MobiusCore{1.2.5} [MobiusCore] (minecraft.jar) 
	NotEnoughItems{1.0.5.120} [Not Enough Items] (NotEnoughItems-1.7.10-1.0.5.120-universal.jar) 
	ClientFixer{1.0} [ClientFixer] (minecraft.jar) 
	UltramineServer{0.1.5} [Ultramine Server] (ultramine_core-1.7.10-server-latest.jar) 
	bspkrsCore{6.15} [bspkrsCore] ([1.7.10]bspkrsCore-universal-6.15.jar) 
	StartingInventory{1.7.10.r03} [StartingInventory] ([1.7.10]StartingInventory-universal-1.7.10.r03.jar) 
	Treecapitator{1.7.10} [Treecapitator] ([1.7.10]Treecapitator-universal-2.0.4.jar) 
	gregapi{GT6-MC1710} [Greg-API] (gregtech_1.7.10-6.12.01.jar) 
	appliedenergistics2{rv3-beta-6} [Applied Energistics 2] (appliedenergistics2-rv3-beta-6_patched.jar) 
	atum{0.6} [Atum] (Atum-1.7.10-0.6.77.jar) 
	betterquesting{3.0.322} [Better Questing] (BetterQuesting-deobf-3.0.322.jar) 
	IC2{2.2.827-experimental} [IndustrialCraft 2] (industrialcraft-2-2.2.827-experimental.jar) 
	Forestry{4.2.15.63} [Forestry for Minecraft] (forestry_1.7.10-4.2.15.63_patched.jar) 
	BinnieCore{2.0.22} [Binnie Core] (binnie-mods-1.7.10-2.0.23.jar) 
	Botany{2.0.22} [Botany] (binnie-mods-1.7.10-2.0.23.jar) 
	ExtraBees{2.0.22} [Extra Bees] (binnie-mods-1.7.10-2.0.23.jar) 
	ExtraTrees{2.0.22} [Extra Trees] (binnie-mods-1.7.10-2.0.23.jar) 
	Genetics{2.0.22} [Genetics] (binnie-mods-1.7.10-2.0.23.jar) 
	GalacticraftCore{3.0.12} [Galacticraft Core] (GalacticraftCore-1.7-3.0.12.497_patched.jar) 
	BiomeTweaker{2.0.182} [BiomeTweaker] (BiomeTweaker-1.7.10-2.0.182.jar) 
	chisel{2.9.5.11} [Chisel] (Chisel-2.9.5.11.jar) 
	CarpentersBlocks{3.3.8} [Carpenter's Blocks] (Carpenter_s Blocks v3.3.8 - MC 1.7.10.jar) 
	ChickenChunks{1.3.4.19} [ChickenChunks] (ChickenChunks-1.7.10-1.3.4.19-universal.jar) 
	chunkpregenerator{2.1} [Chunk Pregenerator] (Chunk+Pregenerator+V1.7.10-2.1.jar) 
	climatecontrol{0.6.beta60} [Climate Control] (ClimateControl-0.6.61.jar) 
	MineTweaker3{3.0.11} [MineTweaker 3] (CraftTweaker-1.7.10-3.0.11.jar) 
	customnpcs{1.7.10d} [CustomNpcs] (CustomNPCs_1.7.10d(29oct17).jar) 
	CustomOreGen{1.2.26} [Custom Ore Generation] (CustomOreGen-1.7.10-1.2.26.jar) 
	DragonsRadioMod{1.7.1} [Dragon's Radio Mod] (Dragon_s Radio Mod-MC1.7.10-1.7.1_patched.jar) 
	Dynmap{2.4-alpha-1-164} [Dynmap] (Dynmap-forge-1.7.10.jar) 
	envirofix{1.7.10} [EnviroFix] (envirofix-1.0.jar) 
	enviromine{FWG_EM_VER} [EnviroMine] (EnviroMine-1.3.124_patched_gc.jar) 
	Waila{1.5.10} [Waila] (Waila-1.5.10_1.7.10.jar) 
	extracells{2.3.14} [Extra Cells 2] (ExtraCells-1.7.10-2.3.14b199_patched.jar) 
	fastleafdecay{1.4} [Fast Leaf Decay] (FastLeafDecay-1.7.10-1.4.jar) 
	GalacticraftMars{3.0.12} [Galacticraft Planets] (Galacticraft-Planets-1.7-3.0.12.497.jar) 
	GalaxySpace{1.1.3} [GalaxySpace] (GalaxySpace-1.1.3 STABLE.jar) 
	gvc{0.6.1} [�aGliby's�f Voice Chat Mod] (GlibysVC-1.7.10-0.6.2a.jar) 
	GraviSuite{1.7.10-2.0.3} [Graviation Suite] (GraviSuite-1.7.10-2.0.3.jar) 
	HardcoreQuesting{4.4.4-um} [Hardcore Questing Mode] (HQM-The Journey-4.4.4-um.jar) 
	IC2NlearControl{2.4.2a} [Nlear Control 2] (IC2NlearControl-2.4.2a.jar) 
	Mantle{1.7.10-0.3.2.jenkins191} [Mantle] (Mantle-1.7.10-0.3.2b.jar) 
	NEIAddons{1.12.15.41} [NEI Addons] (neiaddons-1.12.15.41-mc1.7.10.jar) 
	NEIAddons|Developer{1.12.15.41} [NEI Addons: Developer Tools] (neiaddons-1.12.15.41-mc1.7.10.jar) 
	NEIAddons|AppEng{1.12.15.41} [NEI Addons: Applied Energistics 2] (neiaddons-1.12.15.41-mc1.7.10.jar) 
	NEIAddons|Botany{1.12.15.41} [NEI Addons: Botany] (neiaddons-1.12.15.41-mc1.7.10.jar) 
	NEIAddons|Forestry{1.12.15.41} [NEI Addons: Forestry] (neiaddons-1.12.15.41-mc1.7.10.jar) 
	NEIAddons|CraftingTables{1.12.15.41} [NEI Addons: Crafting Tables] (neiaddons-1.12.15.41-mc1.7.10.jar) 
	NEIAddons|ExNihilo{1.12.15.41} [NEI Addons: Ex Nihilo] (neiaddons-1.12.15.41-mc1.7.10.jar) 
	neiintegration{1.1.2} [NEI Integration] (NEIIntegration-MC1.7.10-1.1.2.jar) 
	openmodularturrets{2.2.10-233} [Open Modular Turrets] (OpenModularTurrets-1.7.10-2.2.10-233.jar) 
	harvestcraft{1.7.10i} [Pam's HarvestCraft] (Pams HarvestCraft 1.7.10i.jar) 
	UndergroundBiomes{0.8.beta49} [Underground Biomes Constrts] (UndergroundBiomesConstrts-1.7.10-0.8-beta49_patched.jar) 
	worldedit{%VERSION%} [WorldEdit] (WorldEdit-1.7.10-indev-server.jar) 
	AppleCore{1.1.0} [AppleCore] (AppleCore-mc1.7.10-1.1.0.jar) 
	LunatriusCore{1.1.2.21} [LunatriusCore] (LunatriusCore-1.7.10-1.1.2.21-universal.jar) 
	gregapi_post{GT6-MC1710} [Greg-API-Post] (gregtech_1.7.10-6.12.01.jar) 
	gregtech{GT6-MC1710} [GregTech] (gregtech_1.7.10-6.12.01.jar) 
	integratedcircuits{1.7.10-0.9r38.228} [Integrated Circuits] (integratedcircuits-1.7.10-0.9r38.228.jar) 
	MTRM{1.0} [MineTweakerRecipeMaker] (MineTweakerRecipeMaker-1.7.10-1.1.0.11.jar) 
	modtweaker2{0.9.6} [Mod Tweaker 2] (ModTweaker2-0.9.6.jar) 
	MTUtils{1.6} [MTUtils] (MTUtils-1.6.jar) 
	MapWriter{2.1.2} [MapWriter] (Opis-1.2.5-1.7.10.jar) 
	Opis{1.2.5} [Opis] (Opis-1.2.5-1.7.10.jar) 
	Schematica{1.7.6.131} [Schematica] (Schematica-1.7.10-1.7.6.131-universal.jar) 
	SpecialAI{1.1.2} [Special AI] (SpecialAI-1.7.10-1.1.2.jar) 
	SpecialMobs{3.1.1} [Special Mobs] (SpecialMobs-1.7.10-3.1.1.jar) 
	SpiceOfLife{1.2.4} [The Spice of Life] (SpiceOfLife-mc1.7.10-1.2.4.jar) 
	bq_standard{3.0.174} [Standard Expansion] (StandardExpansion-3.0.174.jar) 
	PrivateRegions{@version@} [UltraMine PrivateRegions] (UMPrivateRegions-1.7.10-1.0-server.jar) 
	UMScripting{@version@} [UltraMine Scripting API] (UMScripting-1.7.10-indev-server.jar) 
	UMShops{1.0} [UltraMine Shops] (UMShops-1.7.10-indev-server.jar) 
	WailaHarvestability{1.1.6} [Waila Harvestability] (WailaHarvestability-mc1.7.10-1.1.6.jar) 
	endercore{1.7.10-0.2.0.38_beta} [EnderCore] (EnderCore-1.7.10-0.2.0.38_beta.jar) 
	wailaplugins{MC1.7.10-0.2.0-23} [WAILA Plugins] (WAILAPlugins-MC1.7.10-0.2.0-23.jar) 
	MrTJPCoreMod{1.1.0.33} [MrTJPCore] (MrTJPCore-1.7.10-1.1.0.33-universal.jar) 
	HungerOverhaul{1.7.10-1.0.0.jenkins76} [Hunger Overhaul] (HungerOverhaul-1.7.10-1.0.0.jar) 
	BiomeTweakerCore{2.0.182} [BiomeTweaker Core] (minecraft.jar)