Would be really cool if we ever got compatability wtih WarpDrive and OpenComputers.
Ah right I did add Warp Drive to my Testing Pack, and then got distracted, lol. Yep I do consider it… once I am done playing Stellaris…
A quite expensive Space Real Time Strategy & Role-play Game, where you create your own Alien Empire with Culture, Government and everything, and try to survive in a Galaxy full with other such Empires using Diplomacy, Economy and Military. It is a lot like Star Trek, Star Wars and Stargate, when it comes to themes, and there is a lot of other Sci-Fi Stuff too.
There is enough Gameplay Options that you can recreate almost every Species in Science Fiction, and that quite accurately.
The Game is definitely worth paying ~150-250 bux for the large amount of DLC it has, whenever it is on sale, that is.
So are you a "interstellation war criminal"?
In addition, how long do you have to play before you start updating? You haven't updated it for half a month
It is not a War Crime if you technically dont go to War!
Is this List of remaining Achievements enough? XD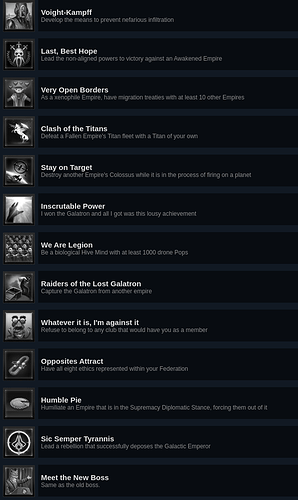 The first one in the List is really annoying, it discriminates against Psionics and against Gestalt Consciousnesses, otherwise I would have gotten that one long ago… Heck I would have gotten that one on my Horizon Signal run, if it wasn't for me deciding to try glitch out the Contingency, by building Ring Worlds to erase their 4 Sterilization Hubs ahead of time, which ofcourse also broke the Event chain for the Achievement…
Also Clash of Titans is bugged to hell, I should have gotten that one on multiple occasions against both Fallen and Awakened Empires…
And yes I tried to gamble for the Galatron in every single run so far, I even tried savescumming it… I really hope some other Empire wins it this time so I can nyoink it from them…
What is this WarpDrive mod about? I mean, what could I do if I installed it?
It supposedly lets you move around Blocks in a Space Ship, kindof like a Frame-Flying Machine, but less difficult to set up.
Also good luck getting it to work, I have no Idea how to do it… I am just glad it works with GT6 without having to resort to IC2 of CoFH being installed for a Mandatory Energy System…
Even in overworld? That is, move in spaceship instead of legs/horses/trains?
It is more of a blocky flying machine, it is still on the chunk grid as far as i know, i would like to know how this damn Mod works so i can test if my TileEntities are fine…
Time to summon TestBear.
It would be fun to fly a spaceship, powered by GT6 reactor. I guess chance of that is low.
I have a very unrelated problem. When I'm mining ores close to bedrock (y<5), these single bedrock blocks become annoying. What if some endgame GT6 materials (like draconium, tartarite, vibramantium) were able to break bedrock? (except the lowest layer)