Hi greg,
Seeing as how the shredder produces huge amounts of 72nd piles my sorting system always has trouble catching up if i just let my system process more than 1 stack of ores. This is because currently the only way to compress them to my knowledge is through the dust funnel, I tried the boxinator but the boxinator for whatever reason doesn't even handle tiny piles let alone 72nd piles (any good reason for this ?).
If you use the dust funnel for compressing 72nd piles you have to set it to tiny piles because hoppers can't emit stacksizes higher than 64 so you have to set them to either emit 8,16,24,32,40,48,56 or 64 and dust funnels don't work that fast it seems they might do something like produce 3 tiny piles / second where the large shredder if shredding non-tiny piles of refined ore can produce almost 54 72nd piles / tick -> 1080 72nd piles / second (using cinnabar as an example). Meaning you need something like 45 dust funnels to accomodate 1 large shredder not even considering the fact that you could shred tiny piles of refined ore instead of compressing them first which I'm doing to avoid a disaster.
Another thing about dust compression is the fact that you have 547 different dusts each of which has a small 72nd, tiny, small and regular version of course the vast majority of them aren't relevant but that's beside the point. With current max sized hoppers you need 18 hoppers & filters for each relevant ore / dust variation so: Tiny refined (optional if the speed of dust funnels was 165 times faster (shredding tiny produces 3.666 times more 72nd dust)), Tiny purified ore, Tiny dust, 72nd dust, small dust. In total 90 (36 slot) hoppers and filters to accomodate all the potential variations which i guess isn't too bad I just wonder if you inteded for it to be such a logistical nightmare to compress dusts.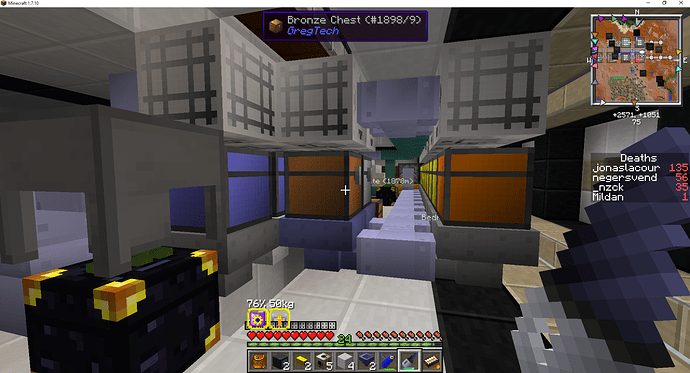 My main concern is that while you CAN extend the amount of dust funnels to compress 72nd piles faster because 64 is divisible by 8 such that if the system fills an almost full dustfunnel the amount of remaining space in the funnel will always be divisible by 8 assuming proper hopper emissions. You CAN'T extend dust funnels or packagers or future boxinators (if you fix) for 1/9 pile items because 64 isnt divisible by 9, so whenever you the pipes split up stacks to fill one packager the next packager won¨t get an amount of items divisible 9 and it WILL get stuck eventually.
TL;DR Please consider allowing boxinators to compress 1/9th piles as well as 1/72nd piles. And please consider adding larger hoppers or configuring highest current tier hoppers to be bigger 54 slots would be ideal to match the size of filters.
PS. To not sound like a completely ungarteful little bitch, thank you for your continued awesome work on this mod it has provided many hours of escapeism and procrastination for me.