I'm trying to use axles and gearboxes to merge output from turbines. I'm using 3 invar fluidized bed burning boxes, 3 chromium boilers and 2 steel turbines.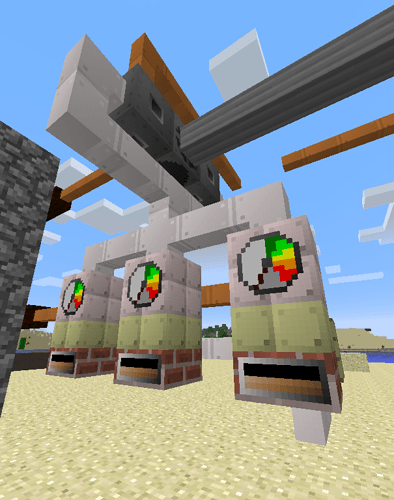 If I understand the tooltips right, it should be within the minimals and maximals even with small fluttering:
1 invar fluidized bed burning box produces 64 HU/t.
1 chromium boiler accepts a maximum of 96 HU/t and turns it into Steam/t with a factor of 2, so with 64 HU/t it produces 128 Steam/t each, adds up to a total of 384 Steam/t, so there's 192 Steam/t for each turbine.
1 steel turbine accepts 96~384 Steam/t and turns it into RU/t with a factor of 1/3, so it should output 64 RU/t each, adds up to a total of 128 RU/t on the main axle.
What actually happens is that, when this output is connected to a machine with rated power 128 RU/t (e.g. the steel centrifuge), the machine repeatedly and rapidly starts and stops, never finishing a fraction of a recipe. Only when I disconnect 1 turbine from the steam supply and turn off 1 burning box does it work smoothly, supposedly with 2/3 the rated power (which still lies in the 1/2~2x range).
So, what could have happened? Is it because of inbalances in fluid distribution that the turbines give different output which cannot be combined using a gearbox? Or is it related to the boiler receiving less HU/t than rated (even though within 1/2~2x)?